INTERARTS: YOUTH COMMUNITIES FOR SOCIAL INCLUSION
La Compagnia Virgilio Sieni ha vinto il progetto europeo InterArts: Youth Communities for Social Inclusion.
Candidato sul programma Erasmus+, il programma europeo per l'istruzione, la formazione, la gioventù e lo sport, è stato approvato dall'Agenzia Nazionale Giovani, risultando secondo in graduatoria.
I progetti approvati sono stati 12 su 130 presentati. Il progetto è un partenariato strategico della durata di 2 anni.
Prevede il coinvolgimento di 7 organizzazioni da tutta Europa:
INTER ALIA – Grecia
ZAVOD NEFIKS – Slovenia
ASOCIACION JUVENIL TEATRAL ON&OFF – Spagna
PROPOSITO INADIAVEL  – Portogallo
ARS FOR PROGRESS OF PEOPLE –  Belgio
CARPE DIEM – Croazia
COMPAGNIA VIRGILIO SIENI – Italia
Il progetto è rivolto ai giovani e si pone l'obiettivo di utilizzare le diverse forme artistiche – danza, teatro, musica, street-art, fotografia, letteratura, cinema scultura e pittura – per favorire l'inclusione sociale, lo sviluppo del sentimento di comunità e cittadinanza.
Virgilio Sieni Company won the European project InterArts: Youth Communities for Social Inclusion.
Candidate on the Erasmus+ programme, the European programme for education, training, youth and sport, the project has been approved by the National Youth Agency, resulting second in the ranking.
12 projects were selected out of 130 submitted.
InterArts involves 7 organisations from all over Europe:
INTER ALIA – Greece

ZAVOD NEFIKS – Slovenia

ASOCIACION JUVENIL TEATRAL ON&OFF – Spain

PROPOSITO INADIAVEL  – Portugal

ARS FOR PROGRESS OF PEOPLE –  Belgium

CARPE DIEM – Croatia

COMPAGNIA VIRGILIO SIENI – Italy
The project is aimed at young people and aims to use different artistic forms – dance, theatre, music, street art, photography, literature, cinema, sculpture and painting – to promote social inclusion, the development of a sense of community and citizenship.
ATTIVITÀ / ACTIVITIES
2019
Il 22 e il 23 febbraio 2019 si è svolto a Firenze press LA Palazzina dell'Indiano il KICK-OFF MEETING alla presenza di tutti i partner che ha dato ufficialmente inizio al progetto.
On February 22nd and 23rd the KICK-OFF MEETING took place in Florence at the Palazzina dell'Indiano, in the presence of all the partners that officially started the project.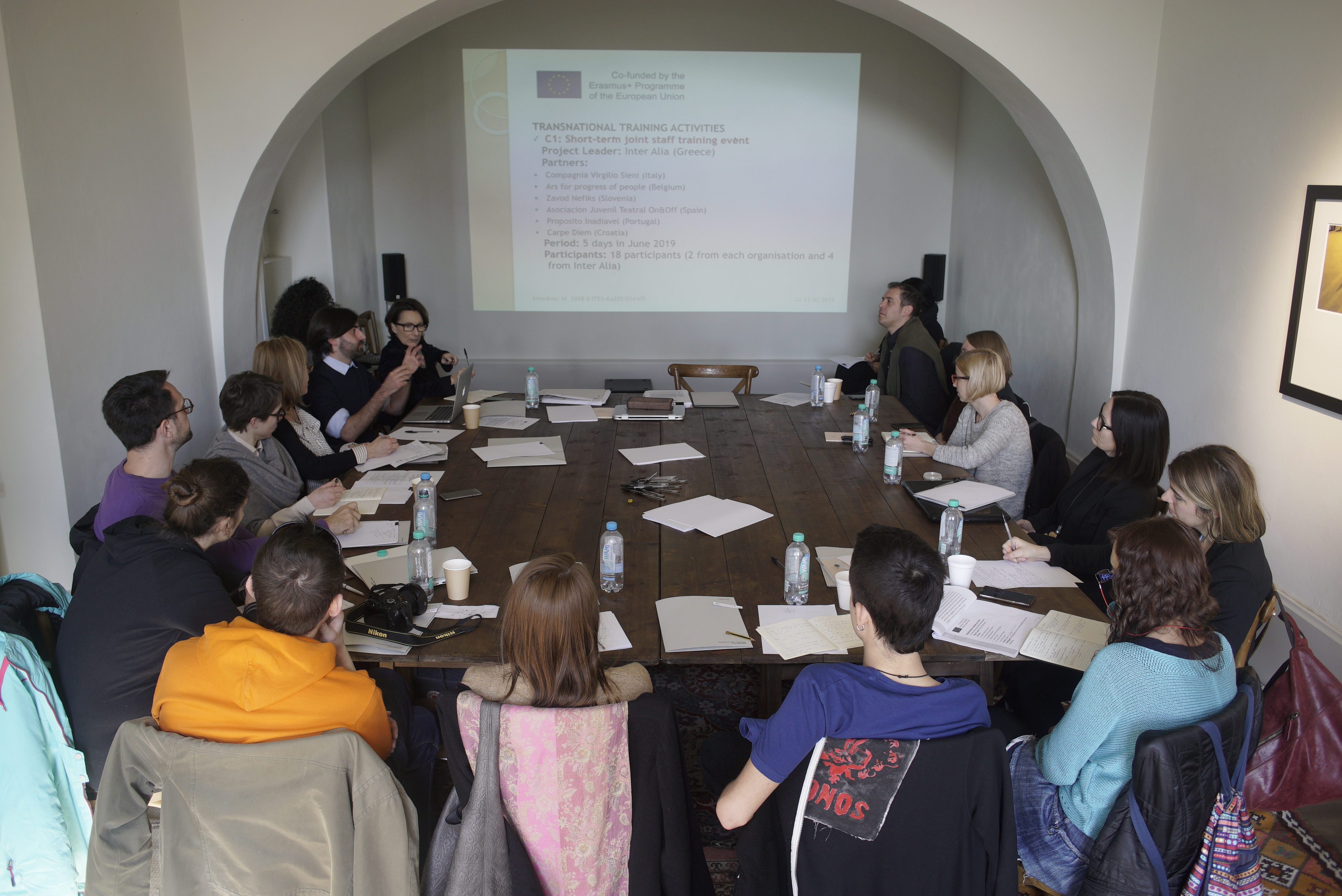 ATTIVITÀ / ACTIVITIES
2020
Workshop Ostinati
4 > 11 ottobre 2020
PIA | Palazzina Indiano Arte – Firenze
a cura di Lucia Sauro e Delfina Stella
Ostinati è stato il primo appuntamento italiano del programma: un percorso di creazione e condivisione collettiva sui linguaggi del corpo e della danza a cura di Lucia Sauro e Delfina Stella nel quartiere Le Piagge,  zona fortemente colpita da emarginazione sociale e degrado.
Realizzato dal 4 all'11 ottobre 2020 nell'ambito di Long Playing Cantieri Culturali, il progetto ha coinvolto Le rotte sedie, un gruppo teatrale che nasce e agisce nel quartiere, lavorando sulle caratteristiche e sulle criticità del territorio.
Il laboratorio e l'azione performativa sono stati un'occasione di studio, inclusione e partecipazione e hanno coinvolto i ragazzi nella pratica di un linguaggio fisico in evoluzione e nella ricerca comune di un movimento in cui ognuno potesse trovare la propria identità scoprendo nuovi modi di fare.
L'obiettivo di Ostinati è stato quella di valorizzare la creatività di ciascun ragazzo attraverso la sperimentazione dei linguaggi del corpo nel pieno rispetto delle possibilità del singolo per imparare a esprimersi, riconoscersi e comunicare con gli altri.
Ostinati is a process of transmission developed for the girls and boys of Florence's "Le rotte sedie" (Broken chairs) theater group, and is part of the Long Playing Cantieri Culturali 2020 project and the Tric e Trac | Giocare e Abitare (Playing and Inhabiting) exhibition cycle. It offers an opportunity for study and participation, with the aim of engaging the group in a collective experience of creation and sharing focusing on languages of the body and of dance. The work starts with an open question on the meaning of being obstinate, and stems from choreographic research for the Canto Ostinato residency project developed during the same period, leaving room for unexpected outcomes. The course is part of the "InterArts: Youth Communities for Social Inclusion" European project that aims to foster responsibility in young people in the struggle against discrimination and social exclusion.